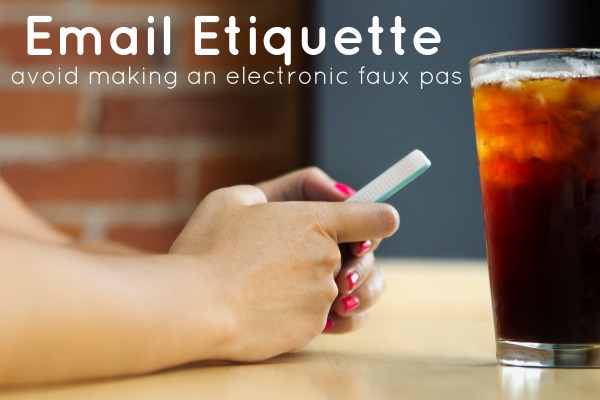 It's no secret that we live in the technology age and sending an instant response to an email has never been easier. I've been going through lots of emails over the past few days and have seen some major oops moments. So much of our communications from social planning to job hunting take place via email and it's important to keep some simple etiquette rules in mind.
1. Remember your audience. You wouldn't address a superior or an acquaintance with "hey" or by their first name in real life, so you shouldn't do it in an email either. You always want to be respectful and should err on the side of formality.
2. Spellcheck and proofread. You would read over a letter right? Read over your emails too. I can't stand when people send emails ridden with obvious typos and hide behind a footer that says "sending from my mobile device please excuse any typos." Whether you're a professional sending messages to client or a blogger working with a brand, you want to appear professional. Don't get me wrong, we're all human and make mistakes, but do a once over before you hit send.
3. Be careful about replying versus hitting reply all. I can't count how many times I've seen someone send a snarky reply to a message on a list-serv and accidentally sent their response to the entire group instead of directly to another person. This is a really big oops moment. You don't want to have to draft an awkward follow-up apology,  double check before you hit send.
4. Watch what you say. I know this one seems obvious, but watch what you say. If you wouldn't feel comfortable with someone else possibly reading the contents, then reconsider whether it is appropriate to email or if a phone call or in-person convo would be better. People do forward and circulate emails even if we like to think they stay private.
5. Keep it short. Short emails that are to the point are always preferable to a novel. Use only as much space as you need.
Photo via Death to the Stock Photo