I haven't done an unboxing post in a while, so when I saw this month's glam bag in the mail when I got home I thought I'd share. This was a pretty great bag this month!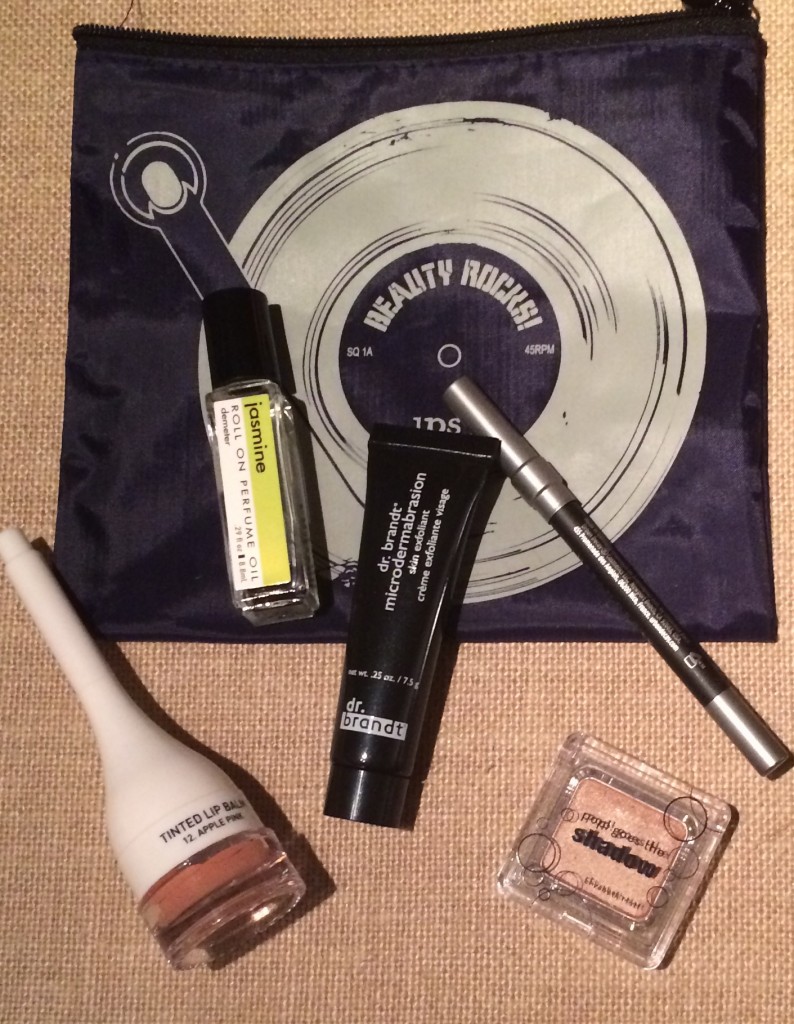 This month's theme was Beauty Rocks and the pouch was dark blue with a record on it. Super cute!
What I got:
Elizabeth Mott Pop! Goes the Shadow in Champagne(full size, $12.99) I believe this is a full size sample which already makes this bag a good value. The shade is a perfect highlight color and it has a silky texture.
Cailyn Tinted Lip Balm in 12. Apple Pink (full size, $19) Another full size sample (you rock Ipsy!). I absolutely love the color for spring. It's a very flattering shade of pink that I think would work with lots of different skin tones.
Demeter Jasmine Roll on Perfume (.29 oz rollerball, $10) This scent is floral with almost a note of musk. This is a perfect purse size. It's a little outside my scent comfort zone, but I'm excited to try it.
Dr. Brandt Microdermabrsion Skin Exfoliant (Full Size 2 oz. $78 / Sample Size .25 oz $9.75) I don't always love getting skin care products in my subscription samples, but this one definitely caught my interest. My skin is super dry from winter and can use some serious exfoliating and it was an Allure Best of Beauty Award Winner in 2012.
Urban Decay 24/7 Velvet Glide on Eye Pencil in Black Velvet (Full Size .04 oz $20 / Sample Size .03 oz. $15) This is a very smooth, very black sharpenable eyeliner pencil. I can't wait to try it. This will be perfect for sultry, smoky eye looks when I'm channeling my inner Jersey girl.
All-in-all I can't complain about this bag. I really liked all of the products and it's value was over $67 if you include a little something for the bag.
What did you get in your glam bag?
Not a member? It's only $10 a month. Sign up here!
Note: That's my Ipsy referral link. I get some points if you sign up and when you sign up you'll get a referral link to give to your friends too!