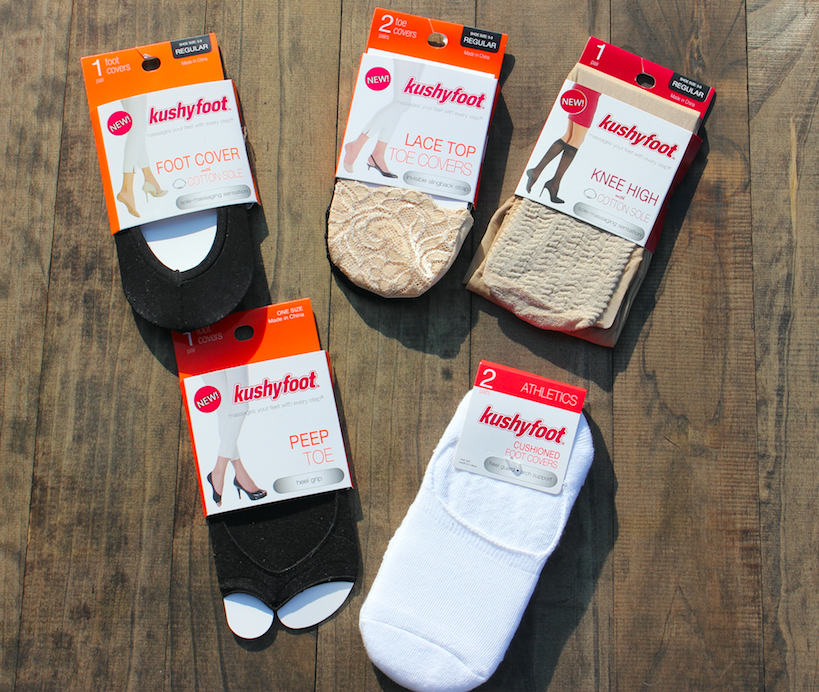 Now that that harsh cold of winter is over and we're almost finished with the spring showers, it's time to trade in boots and galoshes for peep toe pumps and ballet flats. One of the struggles I have with some of my favorite shoes, is not wanting to go bare foot in them. It's easy to get blisters, wear away the soles, and we all know what a little summer sweat can do to our favorite pairs. It's too hot to wear stocking and no one wants to be the person wearing socks and sandals. Kushyfoot provides my favorite solution to this problem in the form of liner-type socks, that are so low cut you can hardly notice them. I wrote about them a while back here, but they've come out with some great new variations that are perfect no matter which pair of shoes you're sporting. Let me walk you through the different types, along with some pairings of my favorite summer shoes that they're perfect for.
Athletic Foot Covers ($7.99 for 2 pair) These are perfect for the gym or running errands in your favorite sneakers. They are low cut and cushioned. They have a heel grip to keep them in place and arch support built in. These are probably the ones I use the most.
Lace Top Toe Cover ($7.99 for 2 pair) It never dawned on me that you could wear anything other than stockings with sling backs. These nifty little liners have a lace toe cap and a clear elastic sling back strap to keep them in place. Just place the liner strap under your shoe straps and no one's the wiser. These make wearing sling-back shoes more comfortable and keep them from slipping around on your feet.
Peep-Toe Foot Cover ($3.99 per pair) Similar to the sling backs, I never thought of being able to wear anything other than stockings. These liners use a heel grip and separated toe opening to keep them in place without being noticed. These add some extra comfort to those sky high heels for a night out.
Sheer Knee High ($5.99 per pair) These sheer knee highs are perfect to wear with your work pants or dressy summer capris. The stockings have a cotton sole for extra breathability that also features a massaging sensation for increased comfort. These are great for your work week pumps.
Foot Cover ($3.99 per pair) These are the classic cotton sole foot covers. These are perfect for your go-to flats. They protect your shoes and add extra comfort with the massaging soles. They stay in place and are also great with pumps, boots…really any shoes.
If you can't tell, I still love Kushyfoot products. Sometimes the right footwear is all you need to take a pair of shoes from so-so to comfortable favorites. Have you tried Kushyfoot? What do you think? Also, Kushyfoot currently has a number of items on clearance for 50% off and you can get free shipping on order of $40 or more. Disclosure: The Kushyfoot products mentioned were provided gratis for the purposes of writing this review. All opinions are my own based on my personal experiences with the products. The shoe links are affiliate links generated via the Shopsense Affiliate Dashboard.