This post is sponsored by Markwins and powered by Brandbacker.
The recent recurrence of boy bands warms my 90s child heart. While I don't usually associate male singers with makeup, I have to say I was pretty impressed with the makeup tins released as part of One Direction's The Looks Collection. This is the launch of their first product in their make-up line. Maybe it was input from their girlfriends or stylists that really pulled these sets together, but I was pleasantly surprised by the selections and quality. Markwins sent me the Midnight Memories set to try and The Looks Collection also includes two other sets–Up All Night and Take Me Home. You can snag these at Macy's, Dillards, and Lord & Taylor, as well as Stage Stores and Beauty Brands for $28.50 per tin. This is a really good value considering everything that's inside.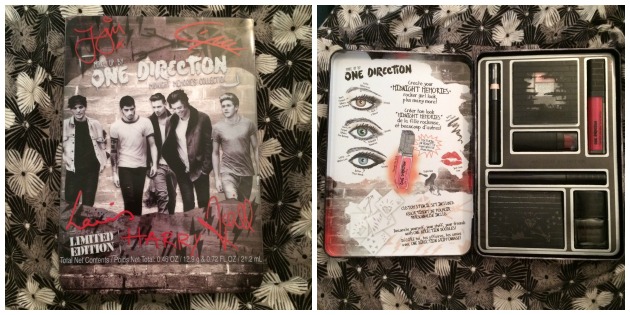 Each tin includes each of the following products in coordinated shades:
Liquilights Glow Gloss
4+1 Eyeshadow Palette
Creme Lipstick
Volumizing Mascara
Eye and Body Crayon
Metallic Nail Varnish
Set of Body Stencils
I figured the best way to review this set was to try to do a look using only these products. This kit has everything you need for eyes and lips, but it doesn't have anything for face or cheeks. Before diving into this kit, I primed my face with my Studio Gear Cosmetics CC Cream, set that with CoverGirl powder, and did a little blush and contouring with my ULTA Sculpt palette.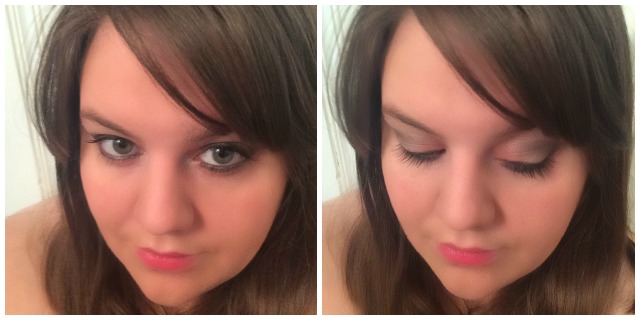 To achieve this look, I started with the eyes. The eyeshadow palette features four eyeshadows in a smoky grays, a shimmering pink, and a black with a bit of shimmer. The palette also has a silver glitter creme shadow in the center. For quick reference the colors are:
Little White Lies: pale, warm gray
Don't Forget Where You Belong: pale, pink shimmer
Half a Heart: metal gray
Strong: deep black with shimmer
Midnight Memories: silver glitter
I started by taking Little White lies and patting all over the lid. Then I took Don't Forget Where You Belong and patted that on the inner half of the lid, gently blending it out in the Little White Lies. Next I took Half a Heart and used it to create an outer V and pulled that color through the socket. I blended out and harsh lines using a clean brush, then added a bit more Little White Lies above it as a transition color. Overall I thought the eyeshadows were pretty good. They have a great satin texture and I experienced very little fall-out. My only complaint is that it takes a bit of effort to build these shades up. I didn't use a primer because I wanted to see how they faired on their own and I definitely think a good primer could make a huger difference. Next I took the Better than Words black crayon and ran it along my waterline, tight line, and upper and lower lash lines. Then I took the Strong shadow on a smudger brush and went over the crayon to set it and smudge it into the lash line. I also winged it out a bit in the corners along the bottom of the outer V. With a detail brush I finished by taking Midnight Memories and putting a tiny bit in the inner corner and running some under the outer half of the lower lash line. A little goes a long way with this stuff! I was surprised at the glitter payoff on the shadow. Use a little bit at a time so you don't make a mess like I did!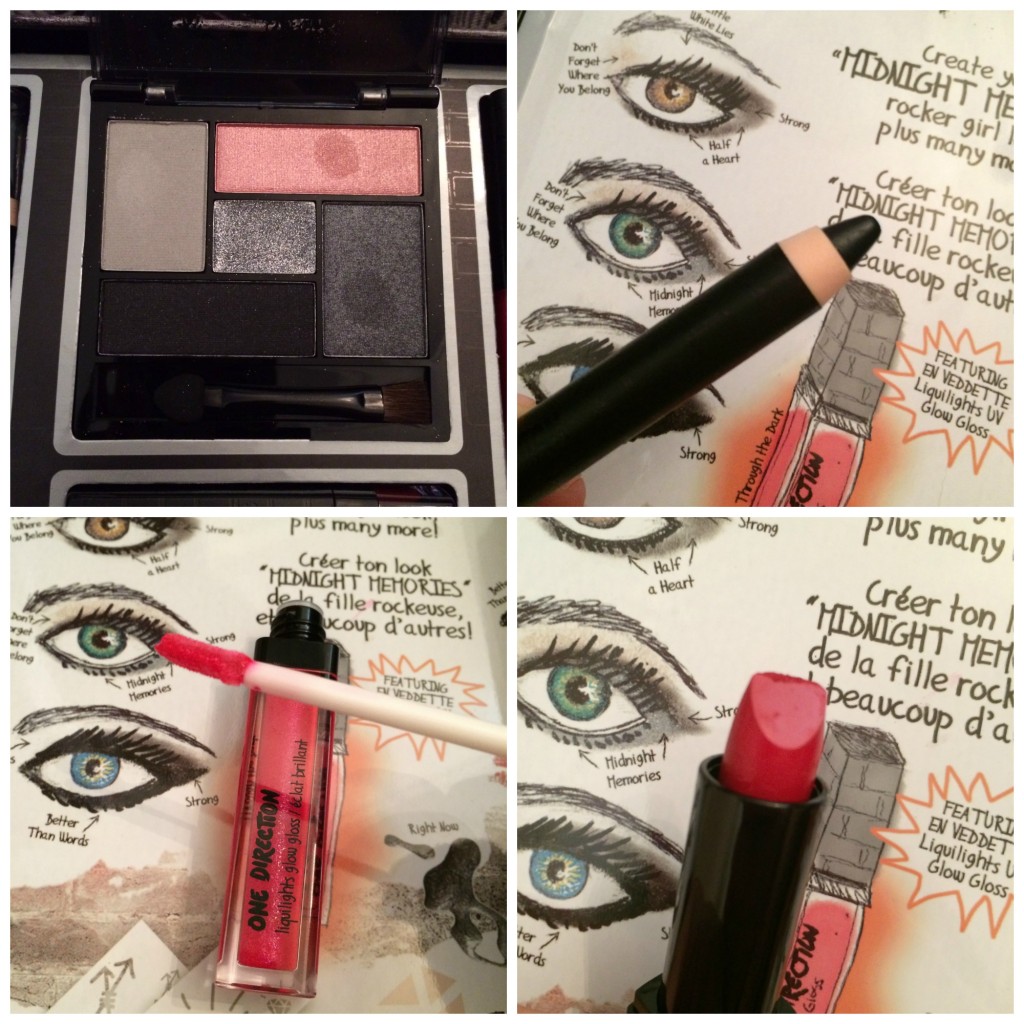 To finish the look, I swept on a few coats of the Little Black Dress Mascara and did a light coat of Through the Dark (which apparently glows in UV light?!) with a bit of Best Song Ever blended over it. Seriously, how cute are these names? If you need a little extra inspiration, the inside of the tin also has some eye charts to show you different ways to pair the shades together. You'll definitely end up with a bit of a rock and roll look from this set, perfect for a night out at your next concert.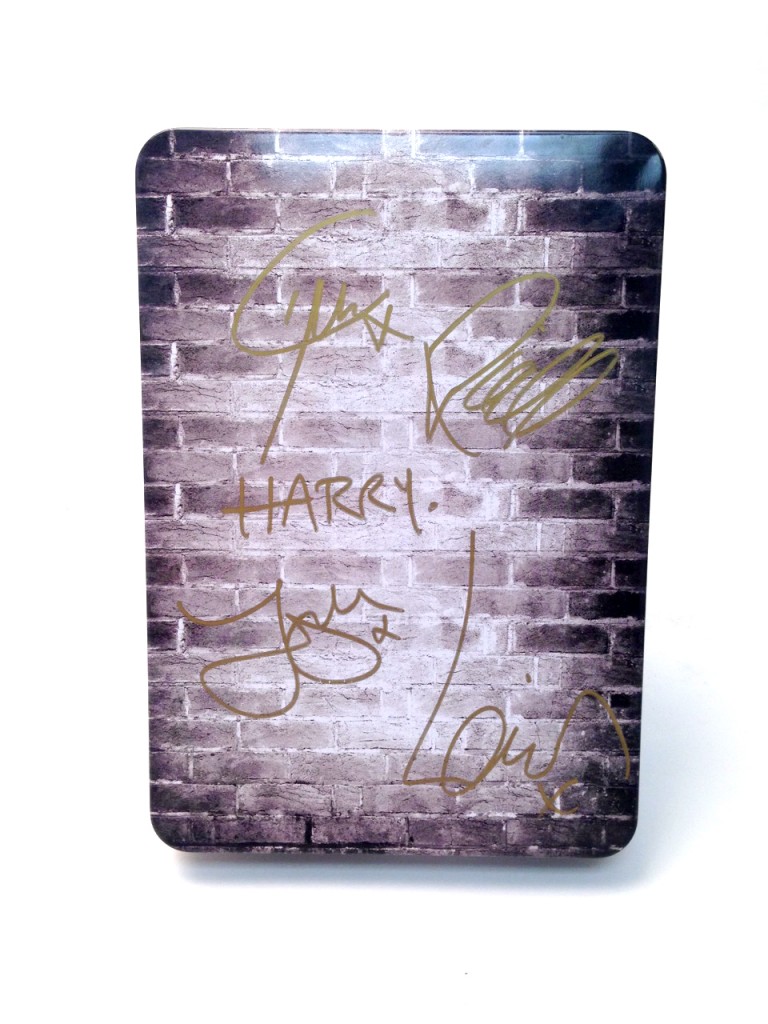 Markwins is also hosting a giveaway to win your own The Looks Collection tin autographed by all the members of One Direction! Enter here for your opportunity to win!
(note: Markwins is running this giveaway, not this blog).