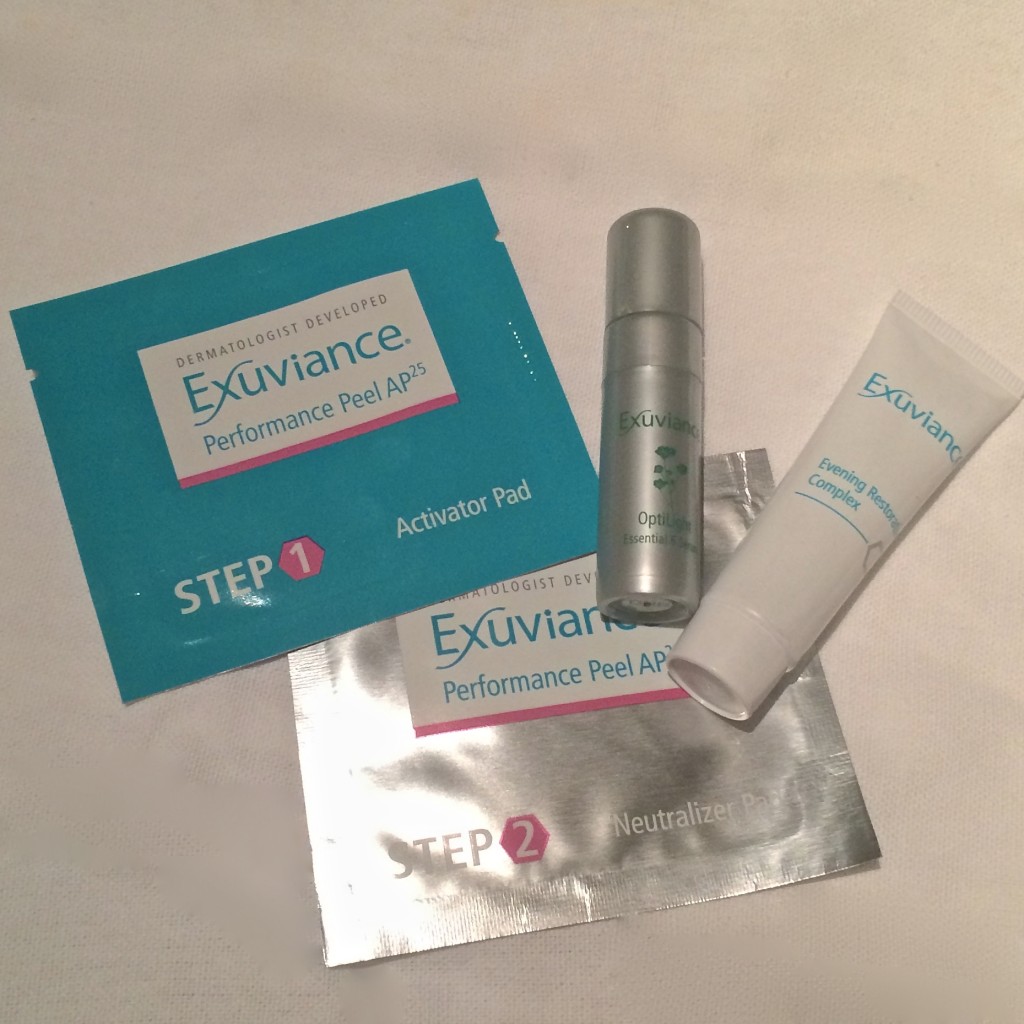 A while back I received samples from NeoStrata to try out the Exuviance Peel Challenge. I have always like the idea of peels, but I have very sensitive skin when it comes to those types of treatments so I have to be careful about what goes on my face.
The product for the Peel Challenge is the Exuviance Performance Peel AP25. This is a 25% alpha hydroxy peel (hence the AP25 in the name), which is on the gentler side of peel strengths. The treatment is intended to be used twice weekly. A 6 week supply is currently $75–definitely cheaper than facials at the spa. It is also fragrance, dye, and PABA free.
According to the clinical claims from the website, this product has been proven to:
Refine pore size and smooth texture
Visibly diminish the appearance of fine lines and wrinkles
Improve clarity and brightness
Brighten and even skin tone
Provide an all-over healthy glow, suppleness and smoothness to skin
I have to admit that I often get intimidated about using products like this, even if it can provide all of these benefits. Who wouldn't be a little nervous about putting chemicals on their face at home? This system makes applying the peel incredibly easy.
Starting with a clean place, you gently rub the activator pad on the desired area of skin. You then allow the peel to work for up to 10 minutes. When you are finished, you take the neutralizer pad and go over the same areas. Then rinse face thoroughly with water. Follow-up with a moisturizer.
When I tried the peel, I was only able to leave it on for about 5 minutes. I would always say to err on the side of less time. You can always do it a little longer the next time. The neutralizer pad instantly alleviated the tingly effects. Even though this is a gentler peel, I still noticed some redness and irritation after using. It was short-lived and resolved itself within a day, but definitely don't do this before an event or if you'll need to wear makeup soon after. As for results, I did find my some refinement to my pores and that my skin was noticeably smoother.
Ultimately, I think this is a pretty good product, but you have to know your skin. Be sure to do a patch test for any sensitivity to the product and watch your times. If you're looking to experiment with peels, the Exuviance system is easy to use, gentle, and in my experience produced noticeable results after just a few uses.
Have you tried this peel? If so, what did you think?
Disclosure: I received samples to do the Peel Challenge. All opinions are my own based on my personal experience with the product.