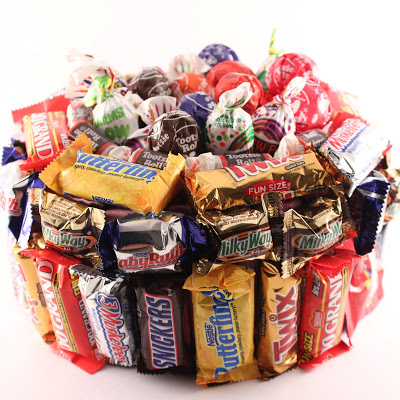 A friend of ours who loves candy had a birthday the week before last and when I came across the idea of a candy cake on Pinterest I knew this would be a perfect gift! (I can't remember the original pin I saw, but if I can find it again I'll add it to this post). This was such a unique and fun gift to make and only took about 20 minutes. I made this the same day as the Housewarming Jar and forgot to take step-by-step photos, but the process was pretty straightforward. If you have questions, leave them as a comment down below and I'm happy to answer!
Here's what you'll need:
Floral foam or styrofoam base
Wide ribbon
Lots of candy in different shapes and types
Glue Dots
A little bit of liquid glue
Cake board or card board
How to Assemble:
I started with two floral foam wreath forms and stacked them one on top of the other securing them with a small bit of E6000.
Next I took some wide grosgrain ribbon and tightly wrapped the base until they were completely covered and secured the ends with a bit more glue.
Now the fun part! Open up all your candy bags and decide on a pattern. Begin securing pieces to the base using the glue dots. I started by placing a repeating pattern of fun size bars upright around the base. Then I did a row of minis above those. For the top I added a horizontal ring of fun size bars.
To fill the hole in the center of the wreaths, I put some balled up tissue paper in first then filled it with Tootsie Rolls.
I finished it off by inserting Blow Pops and Tootsie Roll Pops around the hole to create a decorative ring on the top.
Place it on or glue it to a piece of cardboard or a cake board and you're ready to gift it!
This would also be super cute to gift in a bakery box. Have you made a candy cake or something similar? Leave a link to your project in the comments, I would love to check out your creation!

Join me at these fantastic DIY Link Parties: Dear Creative, Skip to My Lou, Nap Time Creations, and Homemaker's Challenge.
Update: The post that inspired this project was from Lick the Bowl Good.